Automotive Detailing and Mild Restoration

There are many reasons to detail a car, but not all of them are purely cosmetic. Proper detailing improves and maintains the health of your car in much the same way as changing the oil and spark plugs. While detailing takes a bit of effort, the benefits to reliability, safety and beauty are all worthwhile.



Why should I get my vehicle detailed?

Paint Health
Proper cleaning, polishing and waxing greatly extend the life of a car's paint. Your paint protects the metal underneath. If allowed to degrade, rust and corrosion can wreak havoc on your car with potentially devastating results.

Road Salt
In areas that experience seasonal snow fall, road salt can be one of the best reasons to regularly detail your car. Deposits of salt and mud can build up in wheel wells and under the chassis. Given enough time, these deposits can eat right through your paint, causing damage to the chassis that isn't easily repairable.

Improved Lighting Ability
Part of proper detailing is making sure your headlights and taillights are clean and free of damage. Even mild deposits of dirt and grime on your lights can cause large reductions of available light, which can be potentially dangerous at night or in harsh weather.

Interior Condition
By regularly cleaning your interior, you get rid of bad odors, protect surfaces from fading and help prevent cracking and discoloration of the dash panels. Not only does this greatly improve resale price, it also adds a great deal of comfort for the driver.

Wheels and Tires
Oils, solvents, brake dust and other chemicals frequently encountered during normal driving can have a negative effect on your wheels and tires. By getting them properly detailed, you not only keep them looking good, but you also reduce the risks of cracking in the sidewalls or failure of the wheels due to corrosion.

Proper detailing not only helps to keep your car looking great, it helps to keep it running great both inside and out. This not only improves value and safety, but also personal comfort and pride in your car.




What steps do we take during an automotive detail?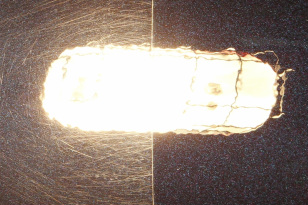 Paint Care
The paint on your car is a very delicate thing, and needs to be dealt with in a process that cleans, corrects and protects the paint surface. The cleaning step consists of properly washing and drying the car to remove any dirt and grime. Once this has been done, if needed (at an additional cost), the paint will be polished to remove any swirl marks and fine scratches.The very last step is the paint being sealed via waxing to protect the paint and help it to shine.
---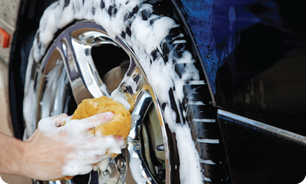 Chassis and Wheels
The undercarriage and chassis of your car should be cleaned along with the rest of the exterior. This not only includes directly under the car, but also inside the wheel wells and around the major suspension components such as anti roll bars and control arms. The plastic splash guards and inner fender liners should be dressed with a plastic protectant, and wheels and tires should be washed thoroughly before being dressed in a protectant that improves their luster and protects from corrosion and cracking.
---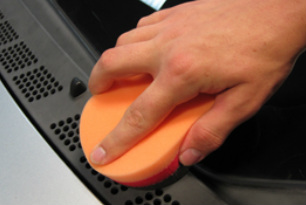 Exterior Trim
Chrome trim will be cleaned, and any vinyl or plastic trim will be dressed with a protectant to help them resist cracking and fading. In addition to plastics and rubbers, we will also clean the chrome or polished exhaust tips as part of the service.
---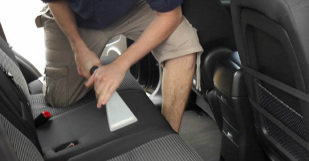 Interior Detailing
Interior detailing will at minimum include a cleaning of all carpeting and seating surfaces. This is done either by first vacuuming and then shampooing or by using a steam cleaner. In addition, all plastics and vinyl will be properly cleaned and dressed, and any leather will be conditioned and cleaned. This is not limited to the passenger area, and we will also include the trunk area in the detailing package.
---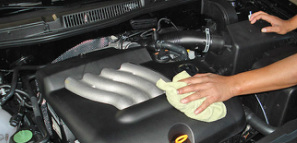 Engine Bay
While some detailing services may not include this in their standard packages, it is a very important aspect of automotive detailing and is included with our detail. The engine bay will be lightly misted with water, and then cleaned with a suitable degreaser before being rinsed clean. Once properly dried, all silicone, plastic and rubber components will be properly dressed to protect them from cracking.
---
We also offer for an additional cost: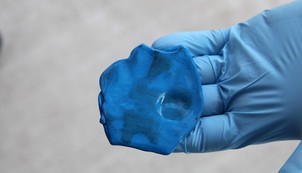 Clay Bar
Having your car clay bared will remove embedded surface contamination that still remains after a wash. Sometimes the contamination removed is not always visible on the paint to the naked eye. After using a clay bar on your paint, you will be left with a surface that is as smooth as glass and properly prepped. It is now ready for polish or to apply layers of protection. Not only can we clay your vehicles paint, but glass, wheels, lights and more. A common misconception about using a clay bar is that it has an impact on removing swirls and scratches, it does not.
---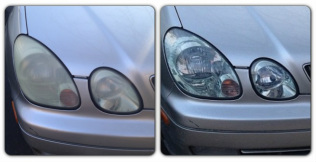 Headlight and Taillight Restoration
We will apply a polishing compound to headlights and taillights showing signs of oxidation, and we will properly seal them afterwards with a plastic sealant to help with future oxidation.
---
We also offer the following repair services:

Paint Chip and Scratch Repair
Window Chip Repair and Replacement
Cigarette Burn Repair
Headlight Restoration
Wheel Refinishing and Repair
Pinstriping
Custom Decals
EdgeGuard - a patented durable plastic installed around the outer edge of your windshield to prevent the leading cause of windshield replacements from occurring due to high stress in this area of your windshield